A Paris court has ruled that the French State has failed to take sufficient action to fight climate change after a case brought by multiple NGOs. In its ruling, the court recognised the damage caused by climate change, and held the French state responsible for failing to meet its goals in reducing greenhouse gases. President Emmanuel Macron has been vocal in his support for action against climate change, previously pushing for the European Union to increase its greenhouse gas emission reduction target from 40% to 55%. However, Oxfam France, Greenpeace France and other groups say President Macron's lobbying has not been backed up by adequate domestic action.
France is falling short of its national targets set as part of the 2015 Paris Agreement. The four NGOs that brought the case called the decision "a first historic victory for the climate" as well as a "victory for truth," saying that until now France has denied the "insufficiency of its climate policies." The court gave itself two months to decide on measures to repair the problem and stop it from getting worse. It did, however, ask the French state to pay each of the four organisations that brought the action one Euro each, a common symbolic practice in France.
This ruling for France's failure to reduce its greenhouse gas emissions is arguably unfair, as the figure is lower than the EU average in the first place. It's harder to cut such a large proportion of an already minimised base: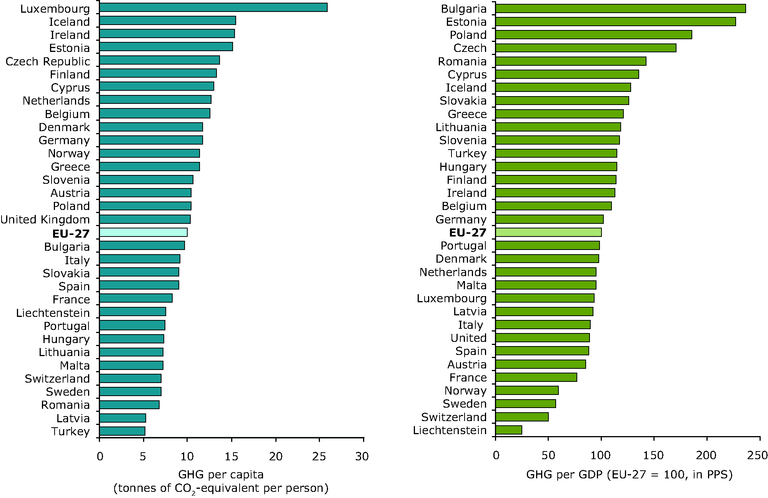 Now read
Portugal plans to use EU Presidency to cement climate targets
Further reading
France fails to meet targets for cutting greenhouse gas emissions, The Local France, 2018-01-23
Greenhouse Gas Emissions Reductions in France: The Agriculture Sector, Climate Exchange / University of Edinburgh, 2018-02
Source
Court rules France failed to respect its climate change goal, Independent, 2021-02-04
Research by Lukas Frisch Tonkinson.